(Originally from Brighton, United Kingdom) is a graduate from the Dun Laoghaire art school. He specialises in fine art painting but also works in photography, performance and film. His work embraces the tradition of remembrance in art and daily practice.
Andrews collections of small paintings and accompanying photography often become the ingredients of his larger 'Diary' pieces or 'This Is Not A Game' series 1980's on the Gulf and Yugoslavian wars and his more recent 'This Is A Game' paintings: Concerning the artistic life.
Manson's works are characterised by the use of everyday activities in which shared differences play an important role. Manson takes daily life as his subject matter, making work using creative game tactics, but these are never permissive.
Manson's serious works demonstrate how life extends beyond its own subjective limits and often tells a story about the good effects of questioning our place in the false histories that propound the here & now.
Andrew's works have been selected for the RHA 1982, 2015, 2016 and 2017 respectively. Andrew is the founder of Ballyrogan House and works and lives there.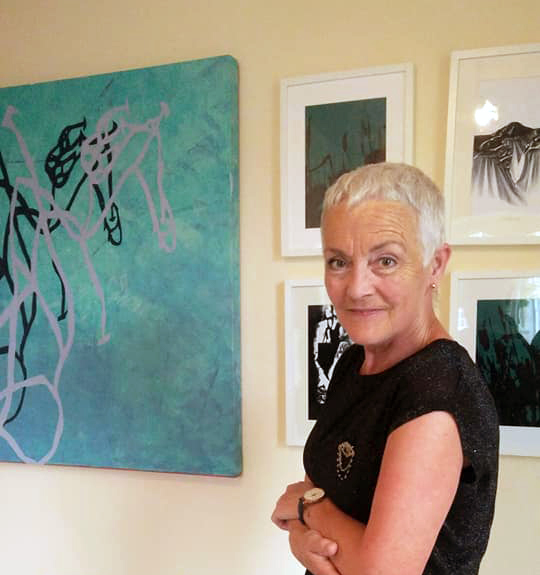 (originally from Sligo, Ireland) is a graduate of NCAD, Dublin, in Fine Art Painting (2009). Her works are collected by the OPW, Dept of Foreign Affairs, The Central Bank and many private collectors and has been selected for exhibitions in both nationally and internationally.
Attracta had a subtle minimalistic approach. Her work reflects concepts of identity and explores the painting process used to distort, transform and interpret ideas that can only be realized in painting. She creates intense personal moments by means of rules and omissions, acceptance and refusal, luring the viewer round and round in circles. By applying abstraction, she makes work that deals with the documentation of events questioning how they can be presented. The results are then deconstructed to the extent that meaning is shifted and multiple interpretations are created.
Attracta is a co founder of Ballyrogan House and lives and works on site.
Completed a Bachelor of Arts (Honors) in Fine Art at the National College of Art and Design, Dublin, in 2012. During this time Manson took part in workshops in the Netherlands, with the European League of the Institutes of the Arts and was selected to represent Ireland in the Prix Europa, Languages through Lenses video competition on multilingualism. Her short film was awarded 4th place out of fifteen short listed entries selected from 27 European Union Member States with her entry 'Choose Wisely'.
Manson's work is in collections such as; AXA Insurance and The Royal College of Surgeons and is housed in numerous private collections also.
Sarah Eva's works were selected for the 121st RHA Annual Exhibition in 2011. In November of the same year she was invited to exhibit in The Cockleshell Gallery, Waterford. There she showed an instillation of 52 palimpsest etchings along with a short video piece. Her work was also selected for the traveling Irish Wave exhibition curated by Fionn Gunn, this exhibition travelled to Beijing and Shanghai in 2012.
Manson spent 6years working in the Copper House Gallery, Dublin, where she specialised in exhibition design, planning and production, advanced transparency and negative scanning along with large format scanning as an archival and conservation resource.
Manson is also curator of Ballyrogan Expression; an artists collective and traveling group show.